She' s gone.
Although the smallest and with the look of innocence our Gardunia reigns the entire pack of dogs. Even our cats, the most independent animals, have to respect the point of view of Her Majesty. Garda accompanies us during our trips, walks and escapades to the center of the city, restaurants and friends and warms up our feets in a bed during long, cold winter nights.
While the puppy she was a prankster, now she became Mother The Queen. Imagine coming back from a long walk in a rainy, muddy day with her paws being the only dirty part of her body. Noblesse obligue - she allows herself to go into play only when she's not observed by the cats...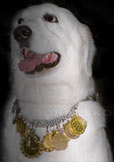 Garda started to attend the dog shows when she was 9 months old and was awarded the excellent notes only. She quickly became Champion of Poland and Junior Champion of Poland. She also was awarded 5 x Junior Class Winner, 2 x CACIB, 3 x Res CACIB, 13 x CWC (Polish championship application form), 10 x Best of Breed, 7 x Best Female in Breed, vice Polish Winner, II and III Best of Group, BEST IN SHOW of Veterans, BEST IN SHOW of Polish Breeds and continues the successes of champions from her breeding line.